The South Korean won (KRW) is on one of the ten most traded currencies in the world, but we do find it on spot #12, making it an interesting choice for FX traders who wish to spice up their portfolio with something that is a bit unusual but still has plenty of liquidity.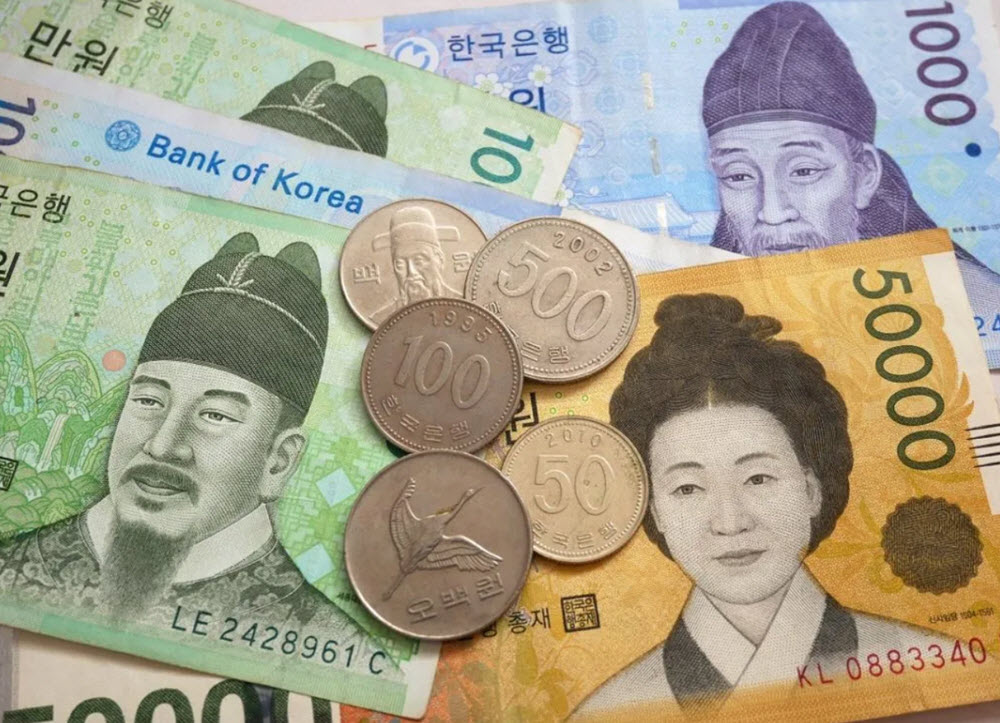 The most traded currencies in April 2019
Rank
Currency
Percentage of daily trades
(bought or sold)
1
USD (US$)

88.3%

2
EUR (€)

32.3%

3
JPY (¥)

16.8%

4
GBP (£)

12.8%

5
AUD (A$)

6.8%

6
CAD (C$)

5.0%

7
CHF (CHF)

5.0%

8
CNY (元)

4.3%

9
HKD (HK$)

3.5%

10
NZD (NZ$)

2.1%

11
SEK (kr)

2.0%

12
KRW (₩)

2.0%

13
SGD (S$)

1.8%

14
NOK (kr)

1.8%

15
MXN ($)

1.7%

16
INR (₹)

1.7%

17
RUB (₽)

1.1%

18
ZAR (R)

1.1%

19
TRY (₺)

1.1%

20
BRL (R$)

1.1%
Short facts about the South Korean won
Alternative name: Korean Republic won
ISO 4217 code: KRW
Symbol: ₩
Issuer: The won is issued by the Bank of Korea
Subunits
A single won consists of 100 jeon.
The jeon is no longer used for everyday transactions in South Korea, but can be important for FX traders.
Banknotes and coins
Banknotes: ₩1,000, ₩2,000, ₩5,000, ₩10,000, ₩50,000
Coins: ₩1, ₩5, ₩10, ₩50, ₩100, ₩500
The ₩1 and ₩5 coins are rarely used nowadays, and the other coins are also less used now than before. There are some tentative plans in motion to cease the production of coins and issue banknotes only.
Only the Bank of Korea is permitted to mint coins and print banknotes. Both coins and banknotes are created by the government-owned corporation KOMSCO under the auspices of the Bank of Korea.

South Korea´s economy
After the end of the Korean War in 1953, South Korea remained one of the poorest countries in the world for over a decade. For the year 1960, its GDP per capita was a mere 79 USD.
Today, South Korea has a highly developed mixed economy and has garnered a lot of attention for its remarkable resilience against various international economic crises. With a low state debt and large fiscal reserves, South Korea has the capacity to quickly mobilize against negative financial events.
South Korea currently has the 4th largest nominal GDP in Asia and the 10th largest worldwide, and it was one of few developed countries that didn´t go into recession during the global financial crisis of 2007-2010.
The major issue that impacts the South Korean credit rating in a negative way its uneasy relationship with its belligerent and unpredictable neighbor North Korea.
The economy of South Korea is dominated by family-owned conglomerates known as chaebols. The major export goods are semiconductors, petrochemicals, automobile/auto parts, ships, wireless communication equipment, flat displays, steel, electronics, plastics, and computers. Examples of important imports are crude oil/petroleum products, semiconductors, natural gas, coal, steel, computers, wireless communication equipment, automobiles, fine chemicals, and textiles.
In 2017, China, the United States and Japan were very important trading partners for both export from and import to South Korea. Vietnam and Hong Kong were major export partners, while Germany and Saudi Arabia were major import partners.